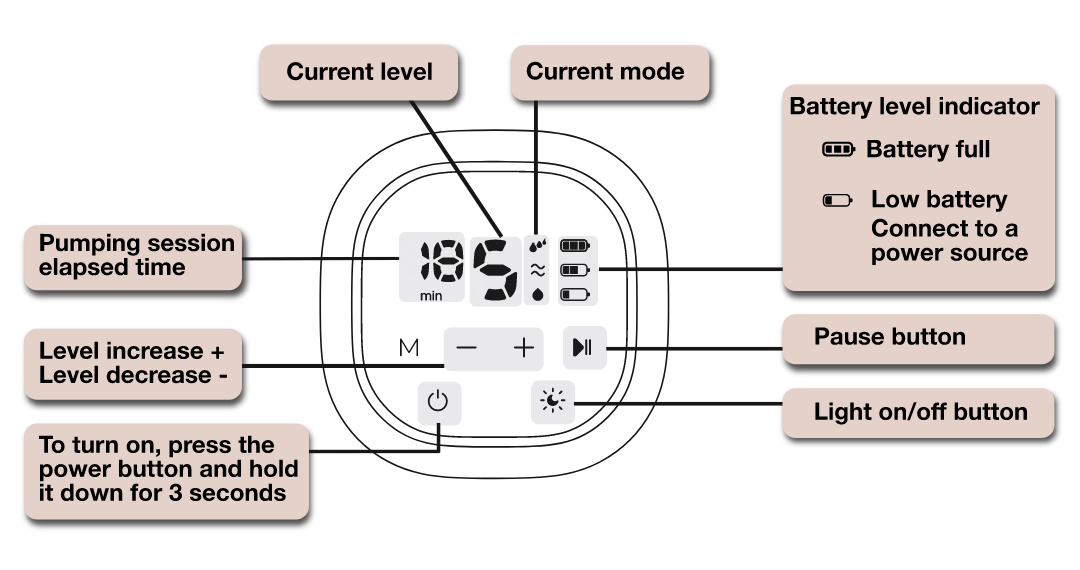 Thoroughly wash your hands with soap and water before touching any pump parts.

Check each component for wear or damage before use and replace parts when/if necessary. We recommend changing parts every 1-3 months.

Make sure that all components that come into contact with breast milk are properly sanitized.

Assemble the breast shield, diaphragm, and bottle according to the instructions and connect to the pump body via the tubing. (please see the quick start guide instructions)

Ensure tubing is tightly connected to prevent air leakage.

Check battery level before use to ensure the device is fully charged.

Massage the breast for about 5 minutes with a warm towel to promote expression.
Place the breast shield on your breast so that your nipple is centered (please see the breast shield size guide to get the correct breast shield size)

Press and hold the power button for 3 seconds to turn on the pump.

Your pump has three pumping modes: Stimulation, 2 Phase, and Expression Mode

.



Press the (M button) to switch modes.
It is generally recommended to start in Stimulation Mode in vacuum 1 and slowly increase the vacuum until you have reached a letdown and the milk has started flowing. Once this happens, switch to Expression Mode starting on vacuum 4 or 5 (or the same level you were using in Stimulation Mode).
You can choose your desired Stimulation / 2-phase level to stimulate milk by pressing the level up and level down buttons.
When your letdown is achieved in Stimulation Mode, switch to Expression Mode or 2-Phase Mode, depending on the mode that works best for you. In Expression Mode, you will get slower, more intense suction. In 2-Phase Mode, it will mimic the way baby feeds from mom, with quicker weaker suction, followed by deeper suction at the end of the mode.

After switching to Expression Mode or 2-Phase Mode, you can choose your desired vacuum level by pressing the level up and level down buttons.



You do not need to use all pump modes and levels ( 2-Phase, Stimulation , and Expression mode). Only use the levels that are comfortable for you.

You can pause your pumping session at any time. Simply press the pause button and press again to continue with your pumping session.
When you have finished expressing, press the power button to turn off the breast pump and carefully remove the pump body from your breast. TIP- After switching off the breast pump, break the seal between the breast and the breast shield with your finger, and then remove the pump from your breast.
Please note the breast pump will automatically turn off after 30 minutes of use.
Read instructions fully before use
When using the adapter, please use the correct voltage (110v-DCV6, 0.8A)
We recommend only using the adapter included with this pump
If the supply cord is damaged, it must be replaced by the manufacturer, its service agent, or similar qualified staff to avoid a hazard
Do not immerse the motor unit in water or attempt to clean it with wet sponge or cloth
Keep out of reach of children
Always unplug when not in use
When pumping, remain seated in an upright position to ensure optimal milk flow and prevent backflow. DO NOT pump while lying down or in a reclined position