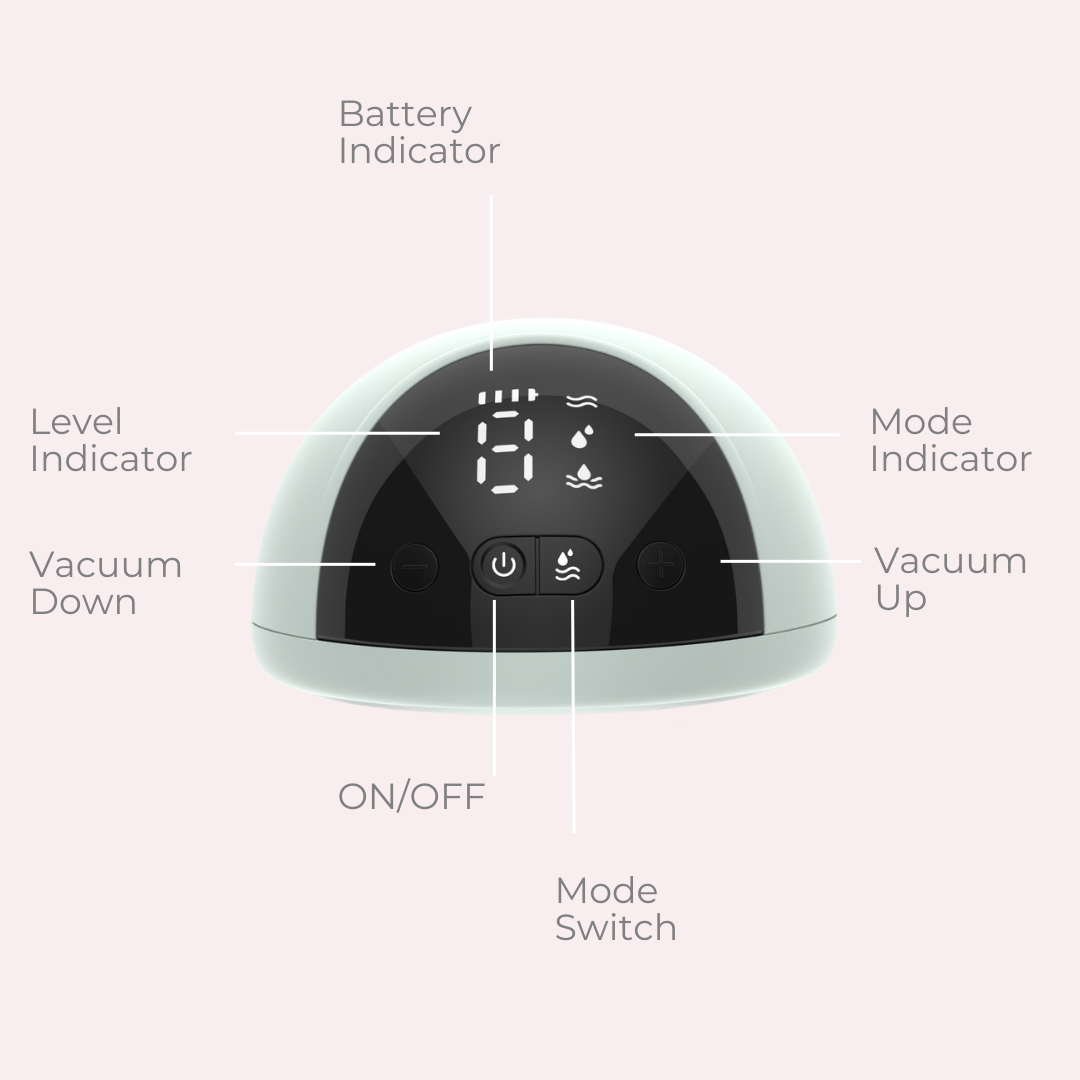 Find your breast shield size, by using the nipple ruler that was included with your pump. Every Fit comes with a 25mm liquid soft breast shield and pairs of both 17mm and 21mm breast shield inserts.

Wearing a supportive tight bra will ensure that your pumping sessions are comfortable and effective. If you are using a more structured bra, try using the Bra Adjuster (included with your pump) to create more room.

Using the breast shield size you have chosen, center your nipple and gently hold the breast shield against your breast.

Assemble the breast shield, diaphragm, silicone ring and bottle securely and according to the instructions before inserting into the motor.
To power on, firmly press the ON/OFF button until the LED screen light illuminates, as it enters Standby mode.
Please note that when using your pump for the first time, the default setting will start on level 1 of Stimulation mode.
Beginning on Standby mode, the pump will automatically enter Stimulation mode at the specific level from your last pumping session. The memory function remembers the last setting used.

The LED screen will automatically lock after 30 seconds.

The pump will automatically switch to Expression mode after 2 minutes of pumping. You can also manually press the mode button to enter Expression mode, or 2-Phase mode if your milk starts to flow earlier.
Use the + or - button to increase or decrease the vacuum levels.
After switching to Expression mode or 2-Phase mode, you can choose your desired vacuum level by pressing the level up and level down buttons.


If you need to pause pumping for any reason, lightly press the ON/OFF button. Remember that when the pause time exceed 5 minutes, the pump will automatically shut off.

When you have finished expressing, press the power button to turn off the breast pump, lean forwards and carefully break the seal between the breast and the breast shield with your finger, then remove the pump from your breast.
There are 9 vacuum settings, giving the user control over what feels comfortable and what works most efficiently.

Practice using either Stimulation, Expression, or 2-Phase mode. Once you can fee the suction on your nipple, use + or - to adjust the vacuum, to find your preferred setting.
Remember the Fit cannot be used while charging.
The battery indicator light will illuminate when charging (the pump will not turn on).
Use a QC adapter for a quicker charge - 10 min. charge = 30 min. session.
After 30 minutes, the pump will automatically shut off as a safety precaution.
Read instructions fully before use
When using the adapter, please use the correct voltage (110v-DCV6, 0.8A)
We recommend only using the adapter included with this pump
If the supply cord is damaged, it must be replaced by the manufacturer, its service agent, or similar qualified staff to avoid a hazard
Do not immerse the motor unit in water or attempt to clean it with wet sponge or cloth
Keep out of reach of children
Always unplug when not in use
When pumping, remain seated in an upright position to ensure optimal milk flow and prevent backflow. DO NOT pump while lying down or in a reclined position